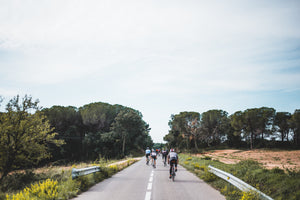 Store Closing
Everything 35% OFF
IMAGINED BY DAVID MILLAR
WHY?
There is no clear path for a retired professional cyclist. Each makes their own; with mixed degrees of success and, needless to say, failure. There are limited options, after all the majority of professionals in any sport only make it to that level by sacrificing their higher education and work experience. What we do have in common is that when our career does end the one thing that we are the greatest experts of we can no longer do, either physically, or mentally, and sometimes both.  
This is somewhat ironic and goes contrary to most professional lives. So when it comes to the end it is safe to say that all professional cyclists are aware they are about to begin anew.  
Without fail we are asked, "So, what is the next chapter?"
For me it was not the first time I'd faced a new beginning. My career can be divided in two, the first part led to my ban from the sport and the destruction that it entailed, the second involved returning to the sport with a resolution that led to eventual redemption. It was much like a three act play, only there is no conclusion to the story, only another new beginning. This is the next chapter.  
WHAT?
Instead of staying within the cloistered world of professional racing I decided to move in a different direction, one that would allow me to use everything I'd learnt over my 18 year racing career, yet in a real world application. I joined forces with architect and designer, Richard Pearce, and together we approached my long term sponsors about continuing working together in a new and unprecedented way.  
It was Richard that came up with the idea of defining my career as one of two parts, and using it as the origin story and natural heritage for a new brand, one that would focus on the future without forgetting the past. This is done in two ways, the name is CHPT3, as in the third chapter of a story, the secondary identity is made up of 19 dashes, four white symbolising the first four clean racing years of my career, followed by three grey and two black, respectively referencing my years doping and two year ban. These are followed by nine white lines, my comeback and best years racing. Ultimately there is one red dash, that is not only now, but also the future, that is CHPT3.
HOW?
There is no clear path for any of us. I believe we're all going through CHPT3 in one form or another: we grow, we change, we adapt.  
We want CHPT3 to represent adaptation.  
We do not have a fixed look or an ideal person.
We are who we are, let's try to be the best person we can be through respect for others and having a good time together.
VALUES?
The values of CHPT3 find their origins in the past: the 18 years I spent racing bikes. So much happened in those 18 years that in truth we could have, for better and worse, chosen dozens. We have chosen five which we believe fit not only CHPT3 but also everything we do in the present and also how we see our future and how we would like our past to be judged.
---
Sorry, there are no products in this collection.